EasyWrappe Calculator (EWC)
The purpose of EWC is to save you from quickly using your expensive photoprinter to print on the wrong size canvas. If you don't know what EasyWrappe is, this program is not of any use to you.
Windows NT, 2000, XP, Vista, 7, 8 & 10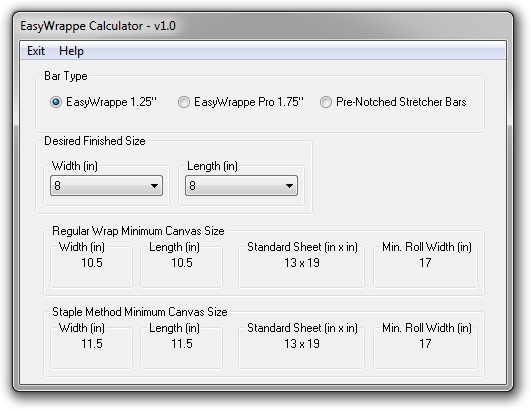 You are viewing this site from IP Address: 3.238.118.27
The above IP address is called: ec2-3-238-118-27.compute-1.amazonaws.com
You just came here from
[an error occurred while processing this directive]
copyright Michael J. Burns
v1.2 Release date February 9, 2019
Description:
EasyWrappe Calculator is a pretty simple free program for quickly checking what is the minimum canvas size you need to produce a canvas print mounted on stretcher bars using the Breathing Color EasyWrappe system or with their normal stretcher bars. I wrote this program to provide myself with a quick & dirty check before loading media into my Giclée printer, and I decided to release it to the public.
All binaries are signed, including the installer. EasyWrappe has NOT been tested for compatibility with Windows 11.
We add the usual warning that there are no warranties that this software will work correctly or will even run on your machine, and that you use it at your own risk. I and this program have no affiliation with Breathing Color, the makers of the EasyWrappe system beyond me being a paying customer of their products (i.e. I buy & use some of their products.).
Click here to download locally
Click here to view the Release Notes
Back to Michael Burns Software
Feedback can be sent to me at
External links are provided for reference purposes. Michael Burns is not responsible for the content of external Internet sites. Copyright © 1997-2023 Michael J. Burns All Rights Reserved.